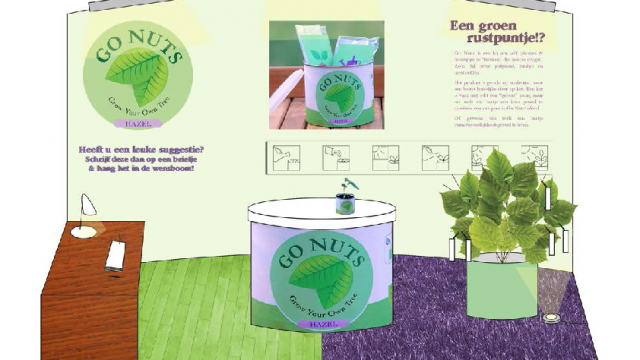 Go Nuts Advertisement Stand
Convention/ Fair Booth
(School project)
The assignment was to design & work out a fair booth for one of our own "products"/ portfolio- items, I chose my "Go Nuts"-plantset. Important keywords in this concept are: Student-product, green, plant, proces, cosiness & simpel. These keywords must be conveyed in some way or another in the project.
A little explanation on the keywords: The product is aimed at students, it has almost no leftover waste-items because the tin can easily be re-used. It's also a proces in which students grow the plant and take care of it. It's aimed at bringing some homely cosiness to a student-room. It's also simple because it doesn't take much time to care for. As an added bonus it might offer a moment of relaxation and teach some responsibility.
For the actual set up of the booth, i chose to envision two key scenes, the student room and the garden. the student room represents the life away from home, at college and the garden represents home and shows the possibility to replant your little tree once you get home again, after college. To draw attention to the booth i gave these two scenes a-typical colors: green wooden floors for the task-area and purple grass for the garden area. The colours come from the logo.
There is also an interactive element incorporated: a wish-tree. People visiting the booth can fill in a card with a suggestion about the product, leave a message, a fun memory or even recipes and other fun things to do with this project. Then they can tie the card in the tree and see if their "wish" comes true (suggestions) or see it return in the website-updates.